Moving to a new location can be a very stressful event. Most likely you and your family have a variety of questions related to housing prices, schools, crime statistics, weather, the arts, lifestyle and much more.
There are a variety of sites on the web that provide this type information but as with all things the accuracy and quality of the information varies greatly. It is important that you access information that will help you create a true picture of your new destination.
Coral Gables was formally incorporated as a city on April 29, 1925. It was and remains a planned community, based on the popular early 20th Century " City Beautiful Movement" and is known for its strict zoning regulations. The City was founded by George Merrick, a real estate developer from Pennsylvania, during the Florida land boom in the early 1920s. The City's architecture is almost entirely Mediterranean Revival Style, with an emphasis on Spanish influence. Merrick had a vision of the City, as it was an extraordinary opportunity for the building of " Castles in Spain".
By 1926 Coral Gables covered about 10,000 acres and the " Biltmore Hotel" was built, which can be seen on the horizon from many parts of the City. Another very distinctive character feature of the City was the themed Coral Gables Villages. They were dated from the 1920s and expanded the City's architecture beyond Spanish influence to include French, South African, Chinese, Italian, and Colonial.
In 1925, about the time the City was founded, The University of Miami, was being built on 240 acres, approximately 2 -3 miles from the downtown Coral Gables area. By 1926, 372 students enrolled at the University. The university is now the number one employer in the City and the second largest in Miami-Dade County.
Today Coral Gables has a population of 50,000 residents and a very beautiful downtown area. It is a pedestrian-friendly community with upscale retailers and restaurants along Coral Way, also known as " Miracle Mile". An abundance of sidewalks lace a majority of the residential areas, as well. The neighborhood along Coral Gables, "Miracle Mile" has about 140 restaurants and many famous stores like Nordstroms and Neiman Marcus. The City is located about 4 miles south of the Miami International airport.
Coral Gables is one of the most beautiful towns in Florida. Among it's beautiful and historic landmarks are the Venetian Pool, Douglas Entrance, and the Biltmore Hotel. and hundreds of significantly beautiful "Old Spanish residences".
The newest statistics for the City are the following:
Population 49,742
3848 people per sq mile
Median age 39.7 years
64.3 % home ownership
86% of the residents have had at least some college to a full graduate degree
39.98 % speak only English
61.02 % speak other languages, mostly Spanish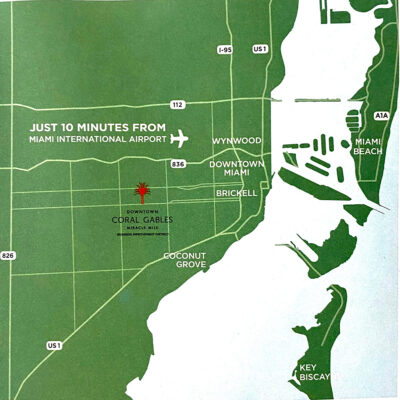 Public Schools in Coral Gables
Ponce Middle – https://poncedeleonmiddle.net/
Coral Gables High – https://www.coralgablescavaliers.org/
Coral Gables Elementary – https://api.dadeschools.net/
David Fairchild Elementary – https://api.dadeschools.net/
Jeannett's Journal Magazine click here
Click here to obtain:
City Profiles
Cost of Living Information
School Statistics
Crime Statistics
Climate Profiles
Comparison Between Two Cities